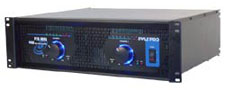 Among aficionados of car and marine audio amplification systems, Pyle Audio is often one of the most mentioned companies. For years, Pyle has provided some of the most cost effective amplification solutions for cars and boats, and have recently begun creating professional audio equipment with this same mindset. Pyle Audio now produces power amplifiers for bands, DJs, installed sound applications, and home theater systems. Pyle PZR30XA Power Amplifiers are created especially for performing DJs, with a number of features that are sure to make them very happy.
The PZR30XA produces a maximum of 4400 watts to a single bridged amplification channel, or up to 2200 watts per channel in standard stereo operation. At this level of power, the PZR30XA will have no trouble driving a subwoofer, or providing your main speaker amplification for nearly any indoor or outdoor performance venue. The unit is certain to remain cool enough to last through any all-day concert set, thanks to its forced air fan cooling system.
The unit features independent protective circuits for each channel. This can be an enormous benefit during a performance, as some types of equipment failures will not shut the amplifier down completely. If a single amplifier channel overheats, for example, due to a blocked vent or improper installation, that channel will shut down to prevent damage. The other channel, however, will continue to operate as normal. In addition to overheating, the PZR30XA is also protected from a variety of electrical fault conditions, and a clipping LED for each channel serve to notify the user if either channel is being driven at volume levels that are too high.
Along with protection, the PZR30XA offers a high level of convenience, starting with the very thoughtful auxiliary power jack on the back of the unit, allowing your mixing console, turntable, or CD desk to be powered directly by the unit. Additionally, the banana plug outputs ensure compatibility with the majority of the world's speakers, and the RCA and XLR inputs ensure that the PZR30XA will be able to work with the equipment that you have already, and that an additional upgrade will not be necessary. Older turntables can also be used with the PZR30XA; a grounding screw on the unit's back panel ensures that excessive hum will be prevented.
Pyle PZR30XA Power Amplifiers - Summary:
• Produces a maximum of 4400 watts to a single bridged amplification channel, or 2200 watts per stereo speaker in dual channel operation
• Independent protective circuits ensure that the unit can continue operating with a single amplification channel under some fault conditions
• Industry standard banana plug outputs and unbalanced (RCA)/balanced (XLR) inputs
• Grounding screw ensures that older turntables will not generate excessive hum
• Forced air induction cooling system removes hot air efficiently from the unit
• Clipping LEDs for each channel notify the user if the volume level could cause speaker damage
No items matching the keyword phrase "Pyle PZR30XA" were found. This could be due to the keyword phrase used, or could mean your server is unable to communicate with Ebays RSS2 Server.

We did not find any matches for your request.